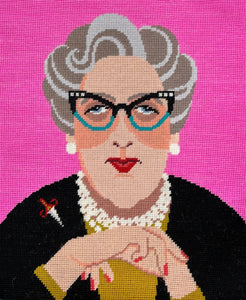 Agatha Christie
Whodunnit? Idunnit!
The Queen of Crime herself, Agatha Christie, thinking up another plot to entertain you all.
Agatha Christie famously said, "I specialize in murders of quiet, domestic interest." and, quite fittingly, this delightful kit is designed to be stabbed several times, then hung or left motionless on the sofa…
This kit is worked in tent stitch and includes a 12hpi colour printed canvas, Appleton Wools, needles and instructions. The finished design measures 30cm x 35cm (12 x 14 inches) approx.